St.Thomas Ontario Homes For Sale
St. Thomas Ontario Realtors
St.Thomas Ontario Real Estate
This St. Thomas Ontario real estate page keeps you informed of all the houses, bungalows, townhouses and townhome condos and apartment condos for sale on MLS, plus a year-to-date update of the median days on the market it takes a home to sell in St. Thomas and the median selling price to the asking price.
The Latest Real Estate Market Updates For St. Thomas and Area
For North East St. Thomas, as of December 3, 2022, 98 houses in North East St. Thomas sold through MLS, the sold prices ranging from $300,000 to $1,255.001 and the median days on the market to sell were seven, and they sold for an average 105.06% of the asking price. There was one townhouse condo sold at 87 Donkers for $650,000.
For North West St. Thomas, as of December 3, 2022, 104 houses sold, ranging in price from $250,000 to $650,000, and these were on the market an average of fourteen days and sold through MLS for a median of 97.32% of the asking price.
For South East St. Thomas, as of December 3, 2022, 277 houses sold ranging in price from $261,000 to $1,400,000 and sold for 102.71% of the asking price and took, on average, eight days to sell. Fifteen townhouse condos sold from $385,000 to $810,000, averaging seven days on the market and selling for 103.34% of the asking price. Eight apartment condos were sold at 440 Wellington, ranging from $315,000 to $421,777 and taking about eighteen days to sell for 98.74% of the asking price.
For South West St. Thomas, as of December 3, 2022, 171 houses sold ranging in price from $215,000 to $1,930,000 and took a median of eight days to sell for an average of 103.355% of the asking price. One apartment condo sold at 125 Elm for $775,000, and two townhouse condos, one at 71 Parkside, for $536,300 and the other at 18 Empire for $670,000!
The following table shows how November's average home prices in LSTAR's main regions compare to the benchmark prices for the same areas.
| Area | November 2022 MLS® HPI Benchmark Price | November 2022 Average Price |
| --- | --- | --- |
| Central Elgin | $582,300 | $622,909 |
| London East | $468,500 | $502,606 |
| London North | $687,400 | $705,725 |
| London South | $569,800 | $617,379 |
| Middlesex Centre | $812,200 | $921,460 |
| St. Thomas | $492,900 | $515,180 |
| Strathroy-Caradoc | $712,200 | $637,977 |
| LSTAR | $575,500 | $615,247 |
The following table shows the November benchmark prices for all housing types in LSTAR's jurisdiction and how they compare with the values from the previous year.
MLS® Home price Index Benchmark Prices
BENCHMARK TYPE
NOVEMBER 2022
CHANGE OVER NOVEMBER 2021
LSTAR Composite
$575,500
↓10.0%
LSTAR Single-Family
$614,000
↓10.2%
LSTAR One Storey
$562,000
↓7.3%
LSTAR Two Storey
$649,500
↓11.8%
LSTAR Townhouse
$490,800
↓9.9%
LSTAR Apartment
$391,200
↓5.4%
When compared to other areas of Canada and most Ontario centres, London and the area offer some of the best values in the market.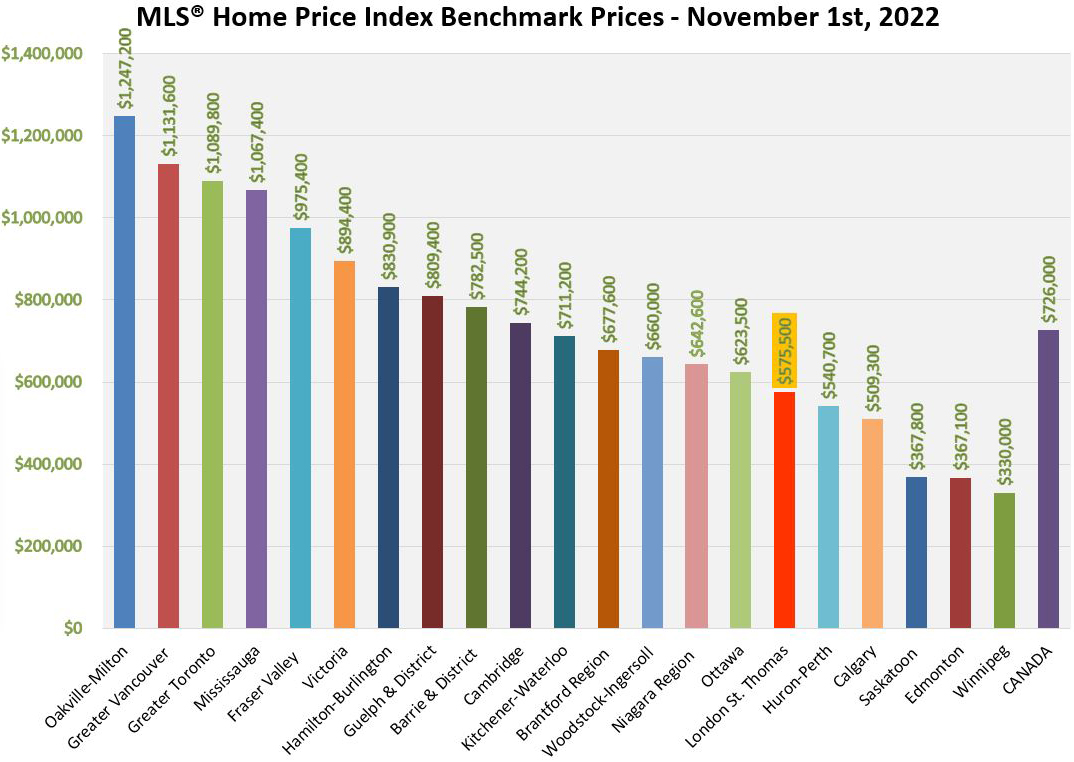 Buying a House in St. Thomas, Ontario
What would it mean that before, during and after you bought a house in St.Thomas, Ontario, you knew that the price and the location and the home's conditions were right?
Most house buyers only think about price, style and location. But there's more than that!
For most, buying a house in St.Thomas & area can be an emotional roller coaster! It comes with many details, and some buyers, or even their Realtor, can get caught up in the excitement and tend to overlook a few things.
The buying process should uncover the following:
What to Look For When You Visit a Home For Sale.
What is the Real Price and The Market Price?
How To Know When Someone is Not Telling You The Truth in a Real Estate Transaction.
How to Save Thousands of Dollars When Writing & Negotiating an Offer.
What Are The FOUR Most important "Market Telltale Signs" You Must Know & Understand Before You Make an Offer?
In a 2022 Consumer Real Estate Survey, 77.8% of home buyers responded that they either paid too much for their house or made a huge mistake somewhere in the buying process!
If you are willing to spend hundreds of thousands of dollars on a home in St.Thomas Ontario, regardless if you are a first-time buyer or buying your 5th, a few minutes of informed insights will be well worth your time.
Six valuable reports to help you make prudent buying or selling decisions!
What price do you offer a seller? Is the seller's asking price too high? Is it ideal? Without research on the market and comparable homes, you are bidding blind. A professional Realtor who represents you should offer an unbiased opinion on a home's value based on market conditions and the house and neighbourhood conditions. I said it should, but how would you know if it is unbiased, what comparables are used, and in what time frames? Without this knowledge, you could quickly bid too much or miss out on a great buying opportunity. Why? There are ten other great tips in this report.
Buying a condo in St. Thomas, Ontario, be it an apartment, a townhouse, or a townhome, takes much more care than purchasing a house. The reason is that due diligence is required to understand the condominium corporation's bylaws, financial status, rules and regulations, and by-laws! These notes will give you several helpful, straightforward tips for buying a condo in London, plus answers to a condo corporation and valuable links.
Report # 3 Who Else is Going To Be Involved When I Buy Real Estate?
Many other professionals or non-professionals are involved in your real estate transaction. An excellent, thorough Realtor will ensure you are working with qualified professionals.
Report #4 Role of a Lawyer in a Real Estate Purchase
The purchaser's lawyer's purpose is to protect you, the purchaser, throughout the transaction and ensure that you obtain a good title to your new property. The purchaser's lawyer also represents your mortgage lender's interests in preparing and registering the mortgage documents—tips on what to ask a lawyer.
Report # 5 Role of a Home Inspector
There are several reasons for having a home inspection, but the most compelling reason is that the inspector looks at the property differently than a purchaser.
The job is to look for significant problems visible on the home inspection day to help you reduce your risk.
2. A good home inspector will also educate you on operating your home's systems.
3. A great Home Inspector will explain how to solve the problems found that day, giving you enough information to make the right buying decision with everything you have learned.
What is a home inspection, how to choose a home inspector & what to be careful about?
Report # 6 What Do All These Real Estate Words Mean Anyway?
What do all these real estate words mean? Learn a few; that way, never will a lawyer, Realtor, economist, mortgage lender or hairdresser ever confuse you again!
A Few Secret Tips When Selling Your Home in St. Thomas Ontario
A home without a buyer has no value in the market place. Sure it might have a value to you the seller, and it might have a benefit to your banker and your insurance agent and your appraiser. But none of these people are buyers.
So here is the secret to pricing your home to sell – It's not what you think the home is worth that matters, it's what a reasonable buyer will consider your home is worth that will ultimately determine if your home will sell.
Now you may be thinking – Hey wait, if I left it up to a buyer, they would pay me as little as possible for my home. True, they would. But in the real world, every buyer knows that you, the seller, have no obligation to sell your home at any price. To purchase your home, the buyer will have to make you an offer you can't or won't refuse.
But here-in lies the trap that many sellers fall into (I did when I first started in the real estate business), which is the mistaken idea that we can hold out for an inflated price and eventually, the market will come to us.
Wrong!
Buyers are under no obligation to buy any particular home, and no amount of marketing, open houses, websites, or signage will motivate a buyer to purchase an overpriced home.
Why?
Because they can buy one of your neighbours' homes for less! This reveals one of the essential considerations in pricing your home – Price VS Time.
Understanding Price VS Time
The age-old dilemma that has faced buyers and sellers since the dawn of private property rights is a simple question:
What is more important, price or time?
Believe it or not, this puzzle underlies and controls every seller's decision to sell, and every buyer needs to complete a purchase. For sellers, this boils down to the need to sell within a set time frame or instead to hold out for the best possible price, and as you might guess, for buyers it's the need to buy within a set time frame or to purchase a home for the lowest possible price.
A seller who would like to sell for top dollar should be prepared to potentially wait longer for a buyer willing to pay a premium price. Like trying to sell ice during December, a seller might have to give the stuff away to get rid of it, but if they wait long enough, say until mid-August when temperatures crest over 100 degrees suddenly that same ice can have real value. On the flip side, a seller who needs to sell quickly, and doesn't have time to wait, should expect to discount their price somewhat because of the limited time they have to expose their home to the market.
What's the difference?
Timing!
Buyers are in the same boat. A buyer who has the luxury of shopping for a home over a long period can probably wait to find a bargain, while another buyer who must buy a home in the next few weeks will probably be willing to pay a premium. Again it boils down to price vs. time. So you might ask yourself what is your highest priority – Selling quickly or selling for a higher price?
When I pose this question to my clients, the answer – I want both! The funny thing is that they aren't kidding!
Quite a few home sellers want their cake with icing on top. Because of this, many homeowners will attempt to put the responsibility of getting both top dollar and fast sale on the back of their hired gun, the real estate agent. The result can be summed up in one word – frustration. Why? Because no matter how much a seller yells, screams and kicks a real estate agent, they don't do miracles.
This is why successful sellers understand that while real estate agents' job is to provide marketing, expert advice, and negotiating services, in the end, they don't own the property. They don't make the final decisions on pricing. The seller does, and ultimately the seller's asking price will, in large part, determine how slowly or quickly the home will sell.
Successful sellers have learned that to price their home accurately means they need to think like a buyer; they need to get inside a buyers skin and look at the world through buyers eyes if you're like most buyers you would probably start online by viewing listings to get a general feel for local home prices.
As a typical internet empowered real estate buyer, you will look at an average of nine homes over 1-2 weeks with the assistance of a real estate professional. By the end of your journey, like many buyers, you become so knowledgeable about the market that by the last showing you can guess, with reasonable accuracy, each home listing price before your agent can even tell you.
So what happened here? As a buyer, you went from a blank slate, with no impression of the market to having the ability to predict listing prices. A big leap, sure, but this description is exactly what most buyers' experience.
So as you can see, pricing to sell your home is not the price your neighbour suggests, or a friend of a friend, or to recoup your costs of a poor renovation or upgrades.
Remember, "if the price ain't compelling, the house ain't selling!"