Houses & Condos For Sale in Oakridge London
For Sale on MLS, Updated Hourly!
May 2021 Another Torrid Real Estate Market In London Ontario And Area
May 2021 was yet another remarkable month for home sales activity in LSTAR's jurisdiction: the Association recorded 1,258 residential transactions via its MLS® systems – year-to-date sales are at an all-time high. At the end of May, there have been 5,175 sales, up 64.3% over the same period last year.
The overall inventory figure, which shows how long it would take to liquidate the existing housing supply in our area at the current rate of sales activity, remained at 0.6 months – its lowest level in the last decade.
The following table illustrates how last month's benchmark prices compare to the average sales prices. The MLS® Home Price Index (HPI) benchmark price reflects the value of a "typical home" from a certain area as assigned by local home buyers based on various housing attributes. The average sales price is calculated by adding the sale prices for all the homes sold and dividing that total by the number of transactions. Since monthly averages may be skewed by the type of houses sold in that timeframe, the HPI benchmark price is a more accurate way to gauge price trends.
| Area | May 2021 MLS® HPI Benchmark Price | May 2021 Average Price |
| --- | --- | --- |
| Elgin | $621,400 | $646,427 |
| London East | $506,900 | $502,608 |
| London North | $691,700 | $741,983 |
| London South | $577,100 | $655,662 |
| Middlesex | $856,800 | $808,936 |
| St. Thomas | $507,000 | $547,777 |
| Strathroy | $681,300 | $636,491 |
| LSTAR | $586,200 | $636,053 |
The single-family home remains on top of the local buyers' preferences, with 937 sales in May. The table below shows the May benchmark prices for all housing types and how they stack against the values from a year ago.
MLS® Home Price Index Benchmark Prices
Benchmark Type
May 2021
Change over May 2020
LSTAR Composite
$586,200
↑ 42.5%
LSTAR Single-Family
$637,700
↑ 46.2%
LSTAR One Storey
$598,100
↑ 49.5 %
LSTAR Two Storey
$678,300
↑ 43.7%
LSTAR Townhouse
$484,900
↑ 32.1%
LSTAR Apartment
$248,300
↓ 8.8 %
Even though all the increases were seen in the HPI benchmark prices and average sales prices, homes in LSTAR's jurisdiction appear to be relatively affordable compared to houses from some other major Ontario and Canadian centres. The following table is based on data taken from the CREA National Price Map for April 2021.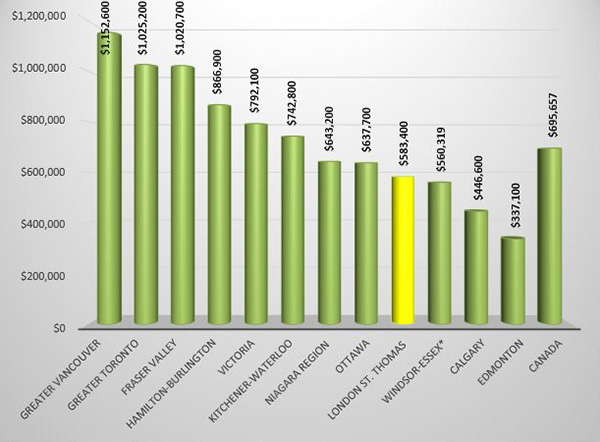 According to a research report[1], a total of $73,250 in ancillary expenditures is generated by the average housing transaction in Ontario over a period of three years from the date of purchase.
The pandemic and the newly introduced mortgage stress test have made the home buying and selling processes a bit more challenging, and this is where an experienced Realtor can really make a difference!
  A Summary of Sold History For Oakridge London Ontario
In 2021, as of June 3, houses, townhouses and apartment condos average six days on the market and sold for a median of 113.67% of the asking price.
As you can see, Oakridge, like the rest of London Ontario, remains a seller's market!
 In 2020, 244 houses in Oakridge London, Ontario, sold through our MLS system averaging seven days to sell for 103.35% of the asking price. The lowest-priced home sold for $371,000, the highest$1,250,000. For condos, including townhouses, townhomes and apartments. Eighty-three changed hands averaging eight days on the market and selling for 102.41% of the asking price, from a low of $243,000 to a high of $700,000.
In 2019, 224 houses in the Oakridge London Ontario neighbourhood sold through our MLS system, selling for an average of 101.96 % of the asking price and taking a median of 21 days to sell. The lowest sold price was $320,000, and the highest was $980,000. In the same period, 107 townhouses, townhomes and apartment condos sold from as low as $216,000 and as high as $2,268,000; the average selling price was 104.26% of the asking price and taking nineteen days to change hands!
  In 2018, 232 houses sold in the Oakridge London Ontario neighbourhood through our MLS system for a median of 103.25% of the asking price, which was $475,189, and these took on average 17 days to sell. The lowest was $310,000, and the highest at $818,000. 94 townhome or townhouse condominium residences sold in 2018 at an average of $402,942, which was 101.19% of the asking price and were on the market a median of 16 days, the lowest price being $365,000 and the high was $456,000.
More and more people are returning to their roots, buying these homes in Oakridge where they grew up, having large, deep lots and renovating them to meet their ageing lifestyles. I have had many clients buy these 60's and 70's homes and upgrade them with modern kitchens, larger bedrooms and bathrooms.
 Where is Oakridge in London, Ontario?
Oakridge Acres, Oakridge Meadows, Oakridge Park, Riverside Gardens, Hazelden North & Hazelden Park are neighbourhoods in north-west London (with a few small patches of 10-year-old or less ) with large lots, mature trees and very few cookie-cutter streets.
Starting at Offord St West at Sanitorium Road to Riverside Drive, Hampton Road, roads around Thames Valley Golf Course to Wonderland Road South heading north to Sarnia Road to Hyde Park Road. ( I'm a guy, don't ask me for directions!)
Some Condo Properties in Oakridge in London, Ontario
Buying A Home in Oakridge L0ndon Ontario
With the average house prices in London, Ontario, setting a record, what would happen if you had a strategy before you even started the process of looking at houses or townhomes?
When I say strategy, I am not talking about price or style or how many bedrooms. You already have a good idea of what you can afford and what you want.
Emotion sometimes can cloud our reasoning, which in turn might cause us to overpay for a home or rush the selection process.
If the questions determine the quality of our life, we ask ourselves, what about if you knew what questions to ask when buying a home and if the answers you receive are accurate?
You, & Only You Determine When Your Home Sells in London Ontario & For How Much.
Well Researched Pricing Leads to Your House Selling in London Ontario
Over 94% of home buyers surf the internet to begin their home search. That means home buyers are well aware of which houses are available & what the asking price is.
Today's home buyers are wiser and have access to information that was not available years ago. Industry surveys show that the average home buyer sees 10-16 homes before making a decision! In most cases, that means those home buyers and their sales representatives know the market for homes similar to yours. Yes, every home may be unique and have different features, but to get market value for those features and uniqueness is another issue altogether. That is what marketing is all about.
Knowing that pricing is the key to selling a house in London, Ontario and the area, some home sellers think that a higher price will give them some negotiating room. But many buyers don't even look at an overpriced property, much less make an offer on it. Overreaching can lead to the house listing becoming tired or, in the worst-case scenario, not selling at all.
The first question a home buyer asks me when showing them a house to buy is, "How long has this house been on the market?"
If it has been on the market for more than ten days, buyers wonder if something is wrong with the property. Homes that are well-priced attract buyers in their price range. If the buyer's perception is that the property is a good buy, then the seller is positioned to receive the listing price or close to it.
In closing, the selling price is what a buyer is willing to pay.