All London Ontario Homes For Sale MLS
Londoners Get Their Real Estate Advantage Here

July 2019 Year To Date London Ontario Real Estate Market
London and St. Thomas Association of REALTORS® (LSTAR) announced 1,043 homes were sold in July, up 4.1% from July 2018. Overall, London Ontario and area remain a seller's market.
In London, there were 912 new listings in July and 622 homes exchanged hands, 0.6% more than last year, while the monthly average home price sat at $408,274. In St. Thomas, there were 90 new listings and 84 home sales, 15.47% lmore than in July 2018, while the average home price was $322,868
According to reports by the Canadian Real Estate Association (CREA), last month, in London, the median number of days on market for residential properties was twenty. In Elgin County, the median number of days on market was 20, in Middlesex County – 24, while in St. Thomas and Strathroy was 12.
Overall, the average home price in the Association's jurisdiction was $404,858.
| Area | JUNE Average Sale Price |
| --- | --- |
| Elgin County | $354,758 |
| London | $414,684 |
| Middlesex County | $477,616 |
| St. Thomas | $322,868 |
| Strathroy | $378,752 |
| LSTAR | $404,858 |
The following chart is based on data taken from the CREA National MLS® Report for May 2019 (the latest CREA statistics available). It provides a snapshot of how average home prices in London and St. Thomas compare to other major Ontario and Canadian centres.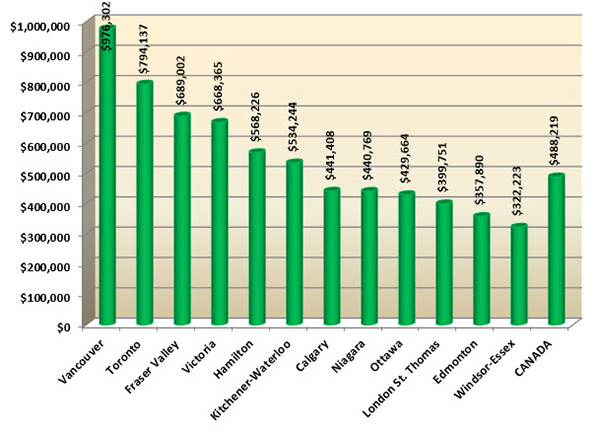 London population growth
8,600, in 2017
7,300, 2016
More than 4,000, on average in preceding years.
---
2017 Growth – Where people came from:
2,461 – Other parts of Ontario
2,346 – Non-permanent residents, students and temporary foreign workers
1,855 – Immigrants, refugees
1,030 – Natural growth, of births minus deaths
   922 – Other parts of Canada
Londoners Care
  Londoners have a rich history of volunteering and community involvement. With National Volunteer Week being in April  I thought I would pat those volunteers on the back!
Most donors and volunteers are active because of what is in their hearts, not the visibility in the press or self-promotion.
A recent survey carried out by Stats Canada found that London's volunteer rate is at 60%, which is well above the Canadian average of 46%. In Ontario, it is the highest of any other city or community!
On average, London volunteers contribute 153 hours to volunteering with a nonprofit or voluntary agency each year and the economic value is an incredible 672 million dollars
.
     London Ontario sustains over 1200 nonprofit groups and charities. So, what are you doing this week?
Help someone, call someone, smile at someone, help an old lady across the street, help a young lady across the street, feed the birds, pick up some litter, pat a dog, instead of giving the finger to someone, give a wave and a smile, that will really upset them!
Working & Growth London Ontario
       Stodgy London Ontario? Conservative London Ontario? Passive, moderate, a university city, industrious, medical, science, forest city, golf central, the city council in conflict, old vs. new, welcome to London!
London's economic growth over the past few years, the affordability of housing and the midway point between the GTA and Detroit has been a beacon for both the young and the retiree to live in London.
Education, science, manufacturing, tech and social newcomers have attracted and are attracting all age groups which in turn supports the new restaurants, retail, professional services that depend on a currency of new ideas and the vitality of vigorous activity.
The result is a diverse, eclectic, stodgy, exciting and a vibrant mix of people who make this city a wonderful, safe city to live in!
The links below are a start for you to discover London Ontario, even if you live here, have visited once or were so-called educated here,open up, don't block, look at this city as a gift, it may not have everything that we perceive as we want, but at the end of the day, embrace it, London is alive & flourishing .
​​
​​
​​
​​