London Ontario Homes For Sale
Keeping You Up To Date With The London Ontario Real Estate Market And Trends
All houses for sale in London Ontario
All condos for sale in London Ontario
All townhouses for sale in London Ontario and the area.
Take your time, search the menus, explore the listings; they are refreshed hourly.
London Ontario Real Estate Market Report August 2021
Nine hundred twenty-five homes traded hands last month via LSTAR's ( London St.Thomas Association of Realtors) MLS® system, marking the second-best August for home sales since LSTAR started tracking data back in 1978. However, the sales pace was slower than in August 2020, with the median number of days spent by a home on the market sitting at 9, compared to only eight days last year.
The overall average home price in LSTAR's jurisdiction for August 2021 was $620,002, undoubtedly caused by the meagre housing supply and the sky-high demand.
The following table shows how August's average sales prices compare to the benchmark prices. The MLS® Home Price Index (HPI) benchmark price reflects the value of a "typical home" from a specific area assigned by local home buyers based on various housing attributes. The average sales price is calculated by adding the sale prices for all the homes sold and dividing that total by the number of transactions. Since monthly averages may be skewed by the type of houses sold in that timeframe, the HPI benchmark price is more accurate to gauge price trends.
| Area | August 2021 MLS® HPI Benchmark Price | August 2021 Average Price |
| --- | --- | --- |
| Elgin | $611,600 | $603,624 |
| London East | $507,300 | $483,920 |
| London North | $697,300 | $732,936 |
| London South | $579,400 | $635,096 |
| Middlesex | $869,300 | $888,272 |
| St. Thomas | $503,400 | $566,320 |
| Strathroy | $680,000 | $603,415 |
| LSTAR | $586,800 | $620,002 |
"Besides prices, when analyzing the market activity in LSTAR's five main regions, we are also looking at the Sales-to-New-Listings ratio recorded in each region. The higher this ratio is, the more that region favours Sellers," Jack Lane, LSTAR president, pointed out. "Currently, all LSTAR's regions are firmly anchored in Sellers' territory, with London seeing the highest ratio – 94.6%, followed by St. Thomas – with 90.1%," he emphasized.
"Speaking of St. Thomas, it's important to note that last month was the best August for home sales in the history of the Railway City, with 82 units sold," Lane said.
In total, LSTAR saw 1,020 new listings last month, 1.4% less than in August 2020. The overall number of months of inventory continued to decrease, reaching a new record low at the end of August: 0.6. "This means that, at the current rate of sales activity, it would take less than a month to liquidate the entire existing housing inventory of LSTAR," Lane explained.
The single-family home remains the favourite house type of local buyers, with 682 sales in August. "Nevertheless, it is worth mentioning that apartments had their best August ever, with 83 units exchanging hands last month," Lane noted.
The table below shows the August benchmark prices for all housing types in LSTAR's jurisdiction and how they stack up against the values from a year ago.
MLS® Home Price Index Benchmark Prices
Benchmark Type
August 2021
Change over August 2020
LSTAR Composite
$586,800
↑ 32.9%
LSTAR Single-Family
$634,000
↑ 34.3%
LSTAR One Storey
$583,800
↑ 37.6%
LSTAR Two Storey
$682,500
↑ 32.2%
LSTAR Townhouse
$483,100
↑ 38.1%
LSTAR Apartment
$319,300
↑13.1 %
Even though all the increases were seen in the HPI benchmark and average sales prices, homes in LSTAR's jurisdiction appear relatively affordable compared to houses from other prominent Ontario and Canadian centres. The following chart is based on data taken from the CREA National Price Map for July 2021.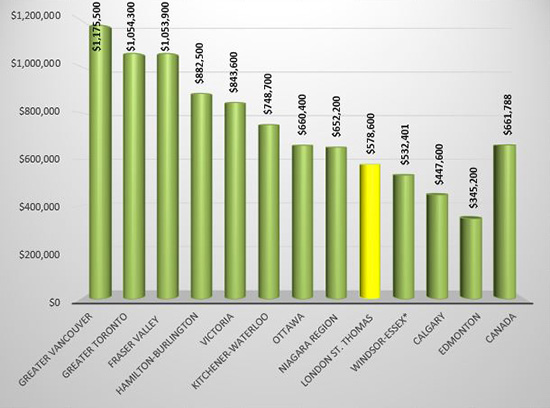 Working & Growth in London Ontario
Stodgy London, Ontario? Conservative London, Ontario? Passive, moderate, university, industrious, medical, science, forest city, golf central, old vs. new, parks, recreation, welcome London!
London's economic growth over the past few years, housing affordability, and the midway point between the GTA and Detroit have been a beacon for both the young and the retiree to live in London.
Education, science, manufacturing, tech and social newcomers have attracted and are attracting all age groups, supporting the new restaurants, retail, professional services that depend on a currency of new ideas and the vitality of vigorous activity.
The result is a diverse, eclectic, exciting and vibrant mix of people who make this city a beautiful, safe city to live in!
The links below are a start for you to discover London Ontario; even if you live here, have visited once or were educated here, open up, don't block, look at this city as a gift; it may not have everything we perceive as we want. Still, embrace it; London is alive & flourishing.
Schools: For Thames Valley District School Board Website for all schools in London, updates and programs
London District Catholic School Board
​​
​​
​​
​​
Londoners Care
Londoners have a rich history of volunteering and community involvement. With National Volunteer Week being in April, I thought I would pat those volunteers on the back!
Most donors and volunteers are active because of their hearts, not the visibility in public or self-promotion.
A recent survey carried out by Stats Canada found that London's volunteer rate is at 60%, which is well above the Canadian average of 46%. In Ontario, it is the highest of any other city or community!
On average, London volunteers contribute 153 hours to volunteering with a nonprofit or voluntary agency each year, and the economic value is an incredible 672 million dollars.
.
London, Ontario, sustains over 1200 nonprofit groups and charities. So, what are you doing this week?
Help someone, call someone, smile at someone, help an old lady across the street, help a young lady across the street, feed the birds, pick up some litter, pat a dog, instead of giving the finger to someone, give a wave and a smile, that will upset them!
2020 Real Estate Market London Ontario & Area Market Numbers
2020 proved to be the second-best year for home sales in the London and St. Thomas Association of REALTORS® (LSTAR) history with 9,976 homes changing hands last year, with 596 sales alone in December, a record!
What Improvements or Additions Can I Make to This Page?
Do you have any information or event that I could add to this page to help someone know more about this neighbourhood?
I will gladly post any information or event on this page if I feel it will benefit the community; I will not post rumours or prejudices.
Please get in touch with me if you feel I can improve this page.
Thank you, Ty Lacroix Broker of Record