Komoka Ontario Homes For Sale on MLS
Your Komoka Ontario Realtors
This Komoka Ontario real estate page has all the homes for sale, including houses, bungalows, townhouses, and townhome condos on MLS, plus monthly sold details such as days on the market to sell plus median selling price % to the asking price.
The village of Komoka is west of London and about 12 miles away.
Komoka Ontario Real Estate Market Update
As of December 3, 2022, twenty-eight houses in Komoka sold, ranging in price from $595,000 to $1,500,000 and were on the market a median of seven days before they sold, averaging to sell for 106% of the asking price. Thirteen townhouses at 9861 Glendon Drive in Komoka sold, ranging in price from $649,000 to $1,025,000 and were on the market for about nine days. A townhouse at 1 Doan Drive sold for $928,000.
The following table shows how November's average home prices in LSTAR's main regions compare to the benchmark prices for the same areas.
| Area | November 2022 MLS® HPI Benchmark Price | November 2022 Average Price |
| --- | --- | --- |
| Central Elgin | $582,300 | $622,909 |
| London East | $468,500 | $502,606 |
| London North | $687,400 | $705,725 |
| London South | $569,800 | $617,379 |
| Middlesex Centre | $812,200 | $921,460 |
| St. Thomas | $492,900 | $515,180 |
| Strathroy-Caradoc | $712,200 | $637,977 |
| LSTAR | $575,500 | $615,247 |
The following table shows the November benchmark prices for all housing types in LSTAR's jurisdiction and how they compare with the values from the previous year.
MLS® Home price Index Benchmark Prices
BENCHMARK TYPE
NOVEMBER 2022
CHANGE OVER NOVEMBER 2021
LSTAR Composite
$575,500
↓10.0%
LSTAR Single-Family
$614,000
↓10.2%
LSTAR One Storey
$562,000
↓7.3%
LSTAR Two Storey
$649,500
↓11.8%
LSTAR Townhouse
$490,800
↓9.9%
LSTAR Apartment
$391,200
↓5.4%
When compared to other areas of Canada and most Ontario centres, London and the area offer some of the best values in the market.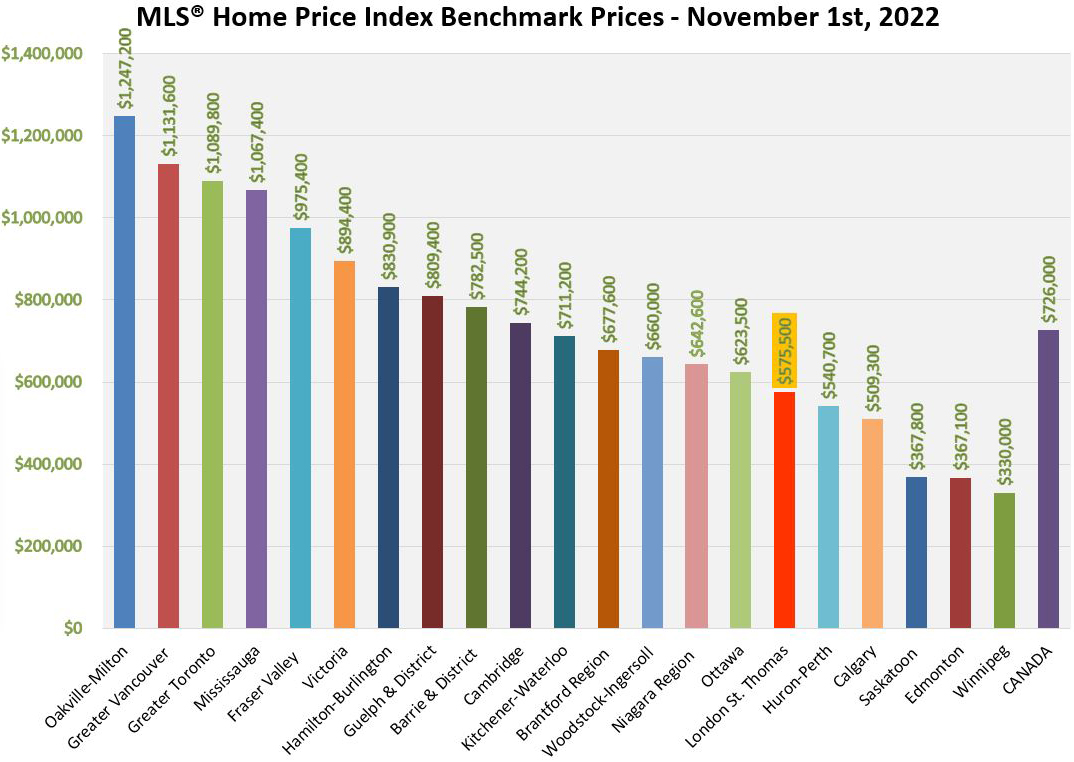 Here is a link to the Kilworth Komoka Business Association
Home Buyer 101
How Often Do You Hear Yourself Saying: "No, I Haven't Read It: I've Been Meaning To!"
Most house buyers only think about price, style and location. But there's more than that! For most, buying a house in London, Ontario & the area can be an emotional roller coaster! It comes with many details, and some buyers may get caught up in the excitement and tend to overlook a few things.
Over the years, through experience in working with hundreds of buyers and sellers in London, Ontario real estate, we have been able to help clients overcome the conflicting misinformation about real estate and apply sound common sense so that our clients are assured they are making great decisions and avoiding emotional overzealousness to buy!
If you spend hundreds of thousands of dollars on a home in London, Ontario, and whether you are a first-time buyer or buying your 5th, a few minutes of informed insights will be well worth your time.
Below are 6 of 22 reports or videos we have prepared to help our clients make prudent decisions!
What price do you offer a seller? Is the seller's asking price too high? Is it ideal? Without research on the market and comparable homes, you are bidding blind. A professional Realtor who represents you should offer an unbiased opinion on a home's value based on market conditions and the house and neighbourhood conditions. I said it should, but how would you know if it is unbiased, what comparables are used, and in what time frames? Without this knowledge, you could quickly bid too much or miss out on a great buying opportunity. Why? There are ten other great tips in this report.
Buying a condo in London, Ontario, be it an apartment, a townhouse, or a townhome, takes much more care than purchasing a house. The reason is that due diligence is required to understand the condominium corporation's bylaws, financial status, rules and regulations, and by-laws! These notes will give you several helpful, straightforward tips for buying a condo in London, plus answers to a condo corporation and valuable links.
Report # 3 Who Else is Going To Be Involved When I Buy Real Estate?
Many other professionals or non-professionals are involved in your real estate transaction. An excellent, thorough Realtor will ensure you are working with qualified professionals.
Report #4 Role of a Lawyer in a Real Estate Purchase
The purchaser's lawyer's purpose is to protect you, the purchaser, throughout the transaction and ensure that you obtain a good title to your new property. The purchaser's lawyer also represents your mortgage lender's interests in preparing and registering the mortgage documents—tips on what to ask a lawyer.
Report # 5 Role of a Home Inspector
There are several reasons for having a home inspection, but the most compelling reason is that the inspector looks at the property differently than a purchaser.
The job is to look for significant problems visible on the home inspection day to help you reduce your risk.
2. A good home inspector will also educate you on operating your home's systems.
3. A great Home Inspector will explain how to solve the problems found that day, giving you enough information to make the right buying decision with everything you have learned.
What is a home inspection, how to choose a home inspector & what to be careful about?
Report # 6 What Do All These Real Estate Words Mean Anyway?
What do all these real estate words mean? Learn a few; that way, never will a lawyer, Realtor, economist, mortgage lender or hairdresser ever confuse you again!
You Are Not a Home Seller Until Your Home Sells And The Money Is In Your Account!
Step #1: Dress Your Home for Sale
Buyers look for HOMES, not houses. They buy homes in which they FEEL they would like to live. Getting your home to sell quickly is simple: make it feel like a home! I know it is your home, but will it be the home that attracts as many buyers as possible? Most buyers select homes based on emotions.
Your home is not the only home buyers will see; the average buyer may see 6-8 houses in London before choosing. You are in competition with other homes for sale in your price range.
A few tips for showcasing your home for sale:
First impressions set the tone for a buyer's visit. Approach your house in your car as any buyer would. Examine the outside as you're approaching. How does it look? Are shrubs trimmed? How clean is the foyer? How do the grass and landscaping look? Cluttered looks detract from the architecture of the house.
Take a look at the exterior of your house. Is the paint fading or chipping? Is the colour outdated or impersonal? How does the roof look? What do you see first as you drive up to or away from your home?
Now go inside just like a buyer would. You want to be aware of four senses: smell, touch, sight, and hearing. Go through room by room and test all four senses. Check flooring and carpet for stains and odours.
Pack away all counter appliances, get rid of excess furniture, put away unused dishes, and make your home neat and orderly. If you've ever visited a model home, you'll notice it's clean and uncluttered. You are going to move anyway, so you might as well pack early and make your home more saleable.
Hire someone to clean your home professionally. Top to bottom! Cleaning and cosmetic fix-ups, especially in the kitchen, bathrooms, and primary bedroom, can often yield you up to $10 in extra sales price for every $1 you invest.
Pets should be out of sight (and smell!). Get rid of pet odours for showings. Remember the four senses. Also, some people are uneasy around pets, and they may distract attention from the features of your home.
Pay particular attention to lighting. During the day, open all your blinds and curtains. If it's cloudy out, turn on all lights for showings. Leave your front drapes open at dusk and turn on all the lamps and lights.
At night, do the same, but close your blinds and curtains. When showing your home, turn off all appliances, television, radio, and anything that will distract attention from your home. You might want to play a little light music to enhance the emotional experience for your buyer.
Step #2: Pricing Your Komoka Ontario Home Correctly
Every seller wants to realize as much money as possible when selling their home. The natural inclination is to price the home high, thinking you can always come down in the future. But a listing price that is too high frequently nets the seller LESS money than an original price at market value. Why is this? Because when most people are looking for homes in your price range, they will reject your home in favour of other homes in a reasonable price range.
Buyers know prices; they may have already been in 6-10 or even 16 houses, they can compare, and in the long run, the buyer will decide if your home is priced right! If there are no offers on the house after five days in this market, what do you think the reason was?
Step #3: Maximizing the Marketing of Your House in Komoka Ontario
The marketing tools that most Realtors use are not very effective anymore. Successfully marketing your home (getting the highest price, at the right time, and with fewer hassles and problems) requires much more. Not surprisingly, less than 1% of homes sold are at an open house! Realtors use open houses to attract buying prospects, not sell your home. And marketing studies show that less than 3 % of people purchased their home because they saw it in an ad.
96.1% of home buyers search online for a house to buy; if they see a home they like, they want professional pictures, a virtual tour, floor plans and an accurate description. Marketing a home to sell takes more than just sticking a sign on your lawn, putting a listing on the MLS (Multiple Listing Service), and praying and wishing it will sell; anyone can do that! It takes assertive, innovative marketing to maximize the selling price!
When your home is for sale on MLS, you enter one of the most competitive businesses anywhere! The primary key to effectively marketing your home is identifying potential buyers.
When you pick up any real estate magazine or flyer, all content looks virtually identical. 2 -6 homes with a small picture of the property and a massive picture of a Realtor and #1 this, #1 that, or a member of so & so club. Or, (I can see your eyes rolling now!), they say stuff like honesty, integrity, we care etc. Well, they better care, be honest, and have all of that and more; it's your home and your money!
Does three bdrm, two baths, a beautiful home, lovely floors, a clean, good neighbourhood and close to schools put you to sleep? Your home has a story, it is your past, and your home's marketing must reflect your home's feel and energy, not necessarily the number of rooms. Most people who can afford to buy a home can count!
Everyone says they have the technology but lack the personal touch or hide behind a keyboard. In a recent Canadian Real Estate Association poll, potential home buyers' most prevalent frustration was a next-day response or never getting a return call. The primary key to generating a buyer for your home is to reach the buyer first. Great Realtors will have an up-to-date automatic response notifier, virtual tour online, floor plans & excellent marketing copy personalized for your home, neighbourhood reports, and calls to action to reach buyers first.
So again, the first one to reach the buyer wins the sale, don't settle for anything less!
Step #4: An Appraisal, an Assessment or What Your Uncle Fred Says Is Not the Market Value of Your Home
An appraisal is an opinion of value for an entirely different purpose than selling your home. Usually, an appraisal provides banks or mortgage institutions with information to fund a loan. If a lender is motivated to loan you money, their estimate may come in higher than the accurate market value of your property.
What's the difference between a comparative market analysis & an appraisal?
There are subtle but significant differences between a CMA and an appraisal. A licensed appraiser performs an appraisal, usually to understand the current value for lending or insurance. A Realtor performs a comparative market analysis to determine a list of selling prices based on comparable sales and market trends. Market value is what a qualified, willing buyer will pay! Accurate information is king; avoid being misled by outside experts' like well-meaning relatives or co-workers who have a perception of your market value.
Step #5: Understanding Your Rights and Obligations
Real estate law and contracts of a purchase and sale are legal documents. When you sign an offer for the sale of your property, it's a legally binding document; an improperly written offer can create many problems for you: a sale could fall through, cost you thousands in forced repairs, inspections, and remedies for items included or excluded in the purchase offer.
You must understand what repairs and closing costs you are responsible for in a contract. Have you disclosed everything? The courts do not accept "Oh," I forgot to mention that" as a defence.
It would be best to review your title carefully and determine whether your property conflicts with local restrictions or laws. (I recently helped a buyer purchase a home, and three outstanding work orders from the city were four years old. And get this, the seller did not even know they existed. So, two real estate people and two lawyers did not do due diligence. All I did was check with city hall; it is just one of the top to-do's on my checklist!)
If you have to remedy these items yourself, you can spend thousands on legal bills, fines, contractors, and other costs. In the above case, it was $5318. 43! A competent listing champion upfront can help identify and avoid these issues before they become "problems."
Step #6: When You Sell, Do You Know Where You Are Going?
Notice that I did not start this step # 6 by "If"you sell, do you know where you are going? It may not be an issue for some, but?
You have found your dream home, but you cannot finance it until your home sells. Do not be misled by this statement "Oh, not a problem; your house will sell or should sell within a week or in a month" Really?
You make an offer on your dream home, but the sellers will not take a conditional offer on you selling yours, or worse, the sellers take your conditional offer with a 24-hour or 48-hour bump clause, and you get bumped! That hurts.
You are counting on clearing or netting x amount of dollars from the sale of your home, and you either get no offers, or the offers you get are nowhere what you thought you were going to clear. Not Good.
Many scenarios can crop up, and I can name 31 more that I have seen or heard. Don't go there. We will not let you gamble with the most significant investment of your life, will not give you false hope or convince you to take what could be a costly risk on your part. We take the time to explain the pros and cons of the options available before you sign anything
Some do not do much business, so they tell you anything to get a listing or a sale. Overpriced listings happen, and then 30 days after, they ask you to price the home where it should have been in the first place. Experience is like fashion, it changes, and what worked ten years ago, five years ago, or last year may not work today to attract buyers to your home!
In Summary
In today's market, buyers are increasingly savvy. This means the competition is stiff! That means that your home will sell at the highest profit and in the quickest amount of time when all the ingredients are combined correctly. If only one element is left out of the formula or is out of proportion to the others.
Whew! You read this far! Did you know that you are more informed about the home selling process than 80% of sellers & buyers? As you can see, pricing to sell your home is not the price your neighbour suggests, or a friend of a friend, or to recoup your costs of a poor renovation or upgrades.
Results That Will Move You!
How to Get More Buyers to See Your Home
Did You Know:
44% of the buyers who walked through a home viewed it online.
67% of the buyers who walked through a home viewed it online that had a virtual tour.
88.6% of the buyers who walked through a home viewed it online that had floor plans and a virtual tour
If you put your home up for sale, what percentage would you want? A home without a buyer is worth what?