Downtown London Ontario Condos For Sale
1,2,3 Bedroom Apartment Condos For Sale on MLS
Downtown London Ontario is rapidly changing as the place to live in London, from those downsizing and moving to London and the young, vibrant tech employers and their savvy associates.
The construction of apartment buildings and planned development is at an all-time high, and new restaurants and eclectic shops sprouting up are giving the city quite a vibe. The city has added bike lanes,  a flex street along with underground sewer and water upgrades.  Retailers are back to retailing; the dining and bar scene is vibrant with a wide array of venues.
London may be a smaller city, but we have Covent Garden Market, Budweiser Gardens & the Grand Theatre for events, shows. With trendy Richmond Row, the city parks, walking and biking trails and of course, the Thames River to keep everyone active.
Tech companies are expanding rapidly, taking over some of the older buildings and jazzing them up and with startups looking for unique office space.
As of June 3, 2021, condos in downtown London through our MLS system sold for 108.31% of the asking price and averaged 8 days to sell!
May 2021 Another Torrid Real Estate Market In London Ontario And Area
May 2021 was yet another remarkable month for home sales activity in LSTAR's jurisdiction: the Association recorded 1,258 residential transactions via its MLS® systems – year-to-date sales are at an all-time high. At the end of May, there have been 5,175 sales, up 64.3% over the same period last year.
The overall inventory figure, which shows how long it would take to liquidate the existing housing supply in our area at the current rate of sales activity, remained at 0.6 months – its lowest level in the last decade.
The following table illustrates how last month's benchmark prices compare to the average sales prices. The MLS® Home Price Index (HPI) benchmark price reflects the value of a "typical home" from a certain area as assigned by local home buyers based on various housing attributes. The average sales price is calculated by adding the sale prices for all the homes sold and dividing that total by the number of transactions. Since monthly averages may be skewed by the type of houses sold in that timeframe, the HPI benchmark price is a more accurate way to gauge price trends.
| Area | May 2021 MLS® HPI Benchmark Price | May 2021 Average Price |
| --- | --- | --- |
| Elgin | $621,400 | $646,427 |
| London East | $506,900 | $502,608 |
| London North | $691,700 | $741,983 |
| London South | $577,100 | $655,662 |
| Middlesex | $856,800 | $808,936 |
| St. Thomas | $507,000 | $547,777 |
| Strathroy | $681,300 | $636,491 |
| LSTAR | $586,200 | $636,053 |
The single-family home remains on top of the local buyers' preferences, with 937 sales in May. The table below shows the May benchmark prices for all housing types and how they stack against the values from a year ago.
MLS® Home Price Index Benchmark Prices
Benchmark Type
May 2021
Change over May 2020
LSTAR Composite
$586,200
↑ 42.5%
LSTAR Single-Family
$637,700
↑ 46.2%
LSTAR One Storey
$598,100
↑ 49.5 %
LSTAR Two Storey
$678,300
↑ 43.7%
LSTAR Townhouse
$484,900
↑ 32.1%
LSTAR Apartment
$248,300
↓ 8.8 %
Even though all the increases were seen in the HPI benchmark prices and average sales prices, homes in LSTAR's jurisdiction appear to be relatively affordable compared to houses from some other major Ontario and Canadian centres. The following table is based on data taken from the CREA National Price Map for April 2021.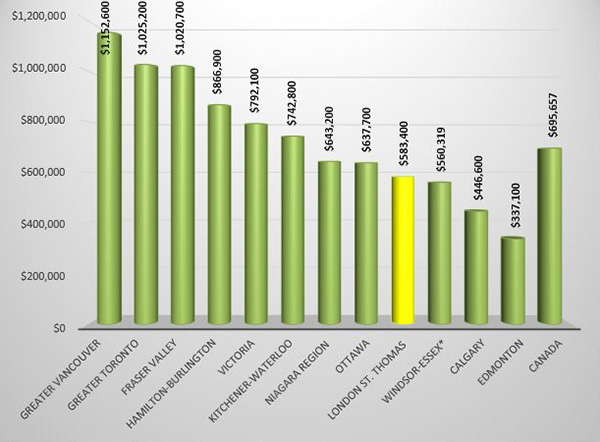 According to a research report[1], a total of $73,250 in ancillary expenditures is generated by the average housing transaction in Ontario over a period of three years from the date of purchase. 
The pandemic and the newly introduced mortgage stress test have made the home buying and selling processes a bit more challenging, and this is where an experienced Realtor can really make a difference!

Here are a select few apartment condominium buildings in downtown London, Ontario:
Wise Condo Buyers Do This & Live Happily Ever After
Most condo buyers do very little research before "diving in" and investing their hard-earned money. Oh, they may go to presentation centres, open houses (pre-COVID), searching MLS or viewing realtor websites or glossy magazines (that are a month old), but there is more that could be done.
Inspect, Review and Double Check:
You may not need a home inspection ( 76% of the time, no need) or do the inspection yourself because the condo corporation covers the windows, doors, roof, etc. Turn on all the appliances, the heat or A/C, all lights, flush the toilets, run all the taps in the house and check electrical switches and receptacles. ​ Have your lawyer review the Status Certificate, which will cover the by-laws and fees, restrictions, and the condo corporation's financial status.
Don't take anything for granted.
Your furnishings and decorations will be the ones filling this new residence. Don't be swayed by beautiful furniture; it leaves with the owner.
    Income plus Lifestyle Equals Mortgage Payment:
  Your income level and present living expenses may be excellent today but consider future considerations like job security or transfer, lifestyle, amenities or fix-ups.
View More Than One Building or Neighbourhood:
Go through at least 4-6 properties. Don't get excited on the first property you see; if you like it, use it as a yardstick, and if the others do not compare, act quickly.  With a patient, professional Realtor, you'll be able to view enough properties to get a great overall perspective of the market. And when you find the right property, all the leg work will be worth it.
  Utilize The Professionals You Are Working With: 
  By aligning yourself with the right real estate professional, you'll have an entire group of professionals working for you. Top Realtors have lenders, inspectors, appraisers, lawyers, tradespeople, cleaners, a whole group of trained professionals making the overall buying experience simple and easy for you.
 Check out all your costs and expense before you sign: condo fees, utilities, cable, taxes and insurance. Ensure all services are on (gas, electricity, and water) when you see the unit. Ask lots of questions and be very detail conscious. (I use a detailed room by room review manual with every client, it covers everything)
   Do a Final Walk-Through Before Closing: 
 Visit the property with your Realtor 2-3 days before you meet with your lawyer before moving in to make sure there are no surprises. Be sure the appliances, fixtures, and chattels are still there as you had agreed upon when the offer was accepted. Many times, things are unintentionally overlooked that could have been spotted in a final walk-through. (This is a standard clause in my Agreement of Purchase and Sale)
  Plan for Flexibility if Needed: 
 Closing dates are not written in stone. Allow for contingencies and have a back-up plan. If you or the sellers need a little more time to conclude the final arrangements, don't let these delays upset or frustrate you.
  If it's Not in Writing, It Doesn't Exist: 
 All promises and discussions are to be in writing. Don't make any assumptions or believe any assurances from anyone. Even the best intentions can be misinterpreted. Have your real estate professional keep an ongoing log (in writing) of all discussions and get the seller's written approval for all agreements.
I could imitate Hemmingway or Faust and tell you about another 61 things to think about, but I will leave you with the following:
If you had an advantage over other buyers when looking to buy or sell a condo in London, Ontario, be it time, money, exposure or experience, would it be worth 15 minutes of your time to learn about it?
   Contact us or call 519-435-1600