Rental rates in Canada up 8% this year for all property types
London Ontario has the least expensive rents of 15 Ontario cities listed in the monthly report.
The average rental rates declined in Canada the second month in a row after two straight months of increases, according to the September National Rent Report produced by Rentals.ca and Bullpen Research & Consulting.
London is on the lower end of affordability for renters finishing 22nd on a list of 30 cities for average monthly rent for a one-bedroom at $1,097 and 23rd for average monthly rent for a two-bedroom at $1,306.  
London was the most affordable of the 15 Ontario cities listed.
Even though August is one of the busiest months for moving in Canada,  that didn't result in an increase in rental rates month over month, as the average rent for all property types on Rentals.ca declined by 0.7% to $1,914 per month. 
This follows a decline of 1.3% in July. The median asking rent in August of $1,800 per month is also down from July ($1,825). 
But overall, rental rates in Canada for all property types are up 8% from the end of 2018.
Not all of the increase can be attributed to either more demand or a dearth of supply, according to the report. Many landlords are renovating their buildings and recouping those investments via higher rents. 
Landlords continue to upgrade and reposition their multi-residential buildings to capture some of renters' willingness to pay for better amenities. The rent report cites preliminary results of the fourth annual Canadian Multi-Res Tenant Rental Survey by Avison Young and Informa Exhibitions showing 36% of tenants would pay more rent for a renovated kitchen and bathroom. 
Nearly 18,000 Canadian tenants responded to over 100 questions in the survey discussed at the recent Canadian Apartment Investment Conference.
Fewer than half of respondents to the survey indicated they are happy with their rental unit, so there could be considerable movement over the final months of the year. 
This, along with more apartment renovations, and rising rental apartment completions could result in double-digit annual rent increases in Canada for 2019. 
Toronto led all cities in average monthly rents for one-bedroom homes ($2,330) and two-bedroom units ($2,904). This data considers all property types. 
At the bottom of the list, cities with the most affordable average monthly rents are: Gatineau, Quebec City, Lethbridge, Saskatoon and Red Deer. 
Ten of the top 11 cities on the list for highest monthly average rent for a one-bedroom home are in Ontario. Only Vancouver at no. 3 is in the top 11. 
With many Ontario cities in the high rent category, the province remains the most expensive market for rental apartment over the past three months with an average rent of $2.57 per square foot. Rent has increased significantly in British Columbia from late last year to $2.49 per square foot, up from $2.01 per square foot in Q4-2018.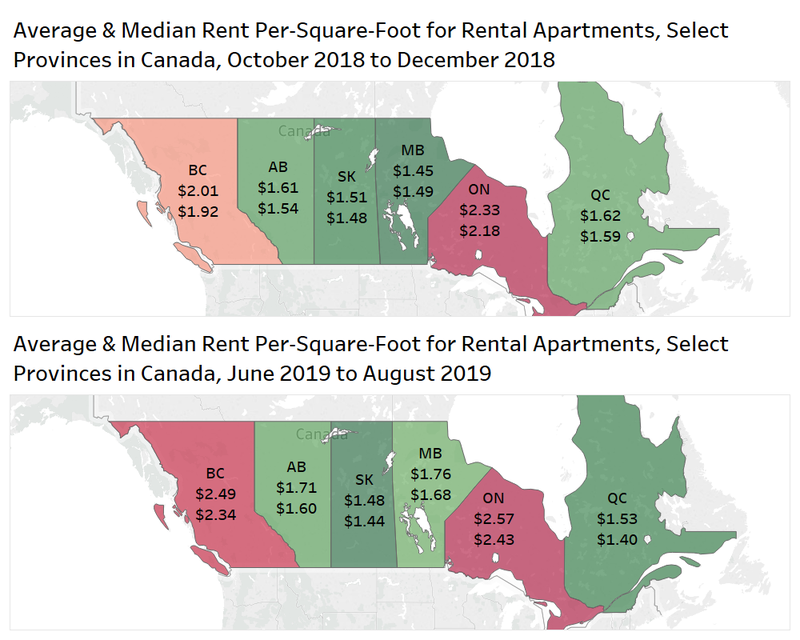 Other takeaways from the September national rent report include:
Part of the decline in the national rental rate in August can be attributed to a decline in the percentage of higher-priced condominium apartments and single-family home listings in August, and an increase in the less expensive rental apartments. The chart below shows the monthly breakdown of Rentals.ca listings since October 2018.
The Tenant Preferences Survey shows that Toronto renters under 30 are spending 49% of their income on rent. The CMHC recommends no more than a 30% rent-to-income ratio. 
In Halifax, rental rates have been rising quickly in 2019 with the average rent increasing by over $300 per month from early 2019 for all property types.
"Average rental rates in Toronto and Vancouver continue to rise per monthly listings data from Rentals.ca, however, recent survey data from Avison Young and Informa shows that tenants in Toronto are spending 42% of their income on rent, while tenants in Vancouver are spending 34%," said Ben Myers, president of Bullpen Research & Consulting.  "Part of the explanation for this gap are the smaller apartment sizes in Vancouver versus Toronto, but a potential factor could be an increase in the number of households with roommates." 
"Despite affordability concerns, tenants continue to seek out larger apartments," said Rentals.ca CEO Matt Danison.  "The Rentals.ca data shows higher rental growth for two- and three-bedroom condo and rental apartments in Canada in 2019 versus studio and one-bedroom suites." 
The National Rent Report charts and analyzes national, provincial and municipal monthly and quarterly rental rates and market trends across all listings on Rentals.ca for Canada. 
The Rentals.ca numbers show vacated properties that better reflect current values. The figures better represent the actual rents a potential tenant would encounter when seeking to rent an apartment. 
For more information, contact Matt Danison at md@rentals.ca or Ben Myers at ben@bullpenconsulting.ca 
Media Contact: 
Paul Danison
Content Director
paul@rentals.ca 
O: 416-910-7722 ext 1