The local housing market continued its steady streak in June, with 745 homes exchanging hands via the MLS® System of the London and St. Thomas Association of REALTORS® (LSTAR). Housing supply increased from 1.7 months of inventory in May to 2.2 months of inventory in June, showing signs of market stabilization.
"The sales activity in June is consistent with the activity from the last several months," said 2023 LSTAR President Adam Miller. "This happened despite another interest rate hike last month. Halfway through the year, the sales demonstrate the strong demand for homes across the region, which is very encouraging."
The table below highlights home sales, average home prices and benchmark prices in LSTAR's jurisdiction over the past four months.
| | March 2023 | April 2023 | May 2023 | June 2023 |
| --- | --- | --- | --- | --- |
| LSTAR Home Sales | 685 | 723 | 846 | 745 |
| LSTAR's Overall Average Price | $653,611 | $664,149 | $682,561 | $675,923 |
| LSTAR's Composite MLS® HPI Benchmark Price | $592,600 | $607,200 | $619,800 | $626,200 |
The overall sales-to-new listing ratio for LSTAR was 52.7% in June, slightly down from 60.6% in May. According to the Canadian Real Estate Association (CREA), a ratio between 40% and 60% is generally consistent with a balanced market.
The June average home price was $675,923, slightly down from $682,561 in May. The composite MLS® Home Price Index (HPI) Benchmark Price was $626,200, up from $619,800 in May. The HPI benchmark price reflects the value of a "typical home" as assigned by buyers in a certain area based on various housing attributes, while the average sales price is calculated by adding all the sale prices for homes sold and dividing that total by the number of homes sold. The HPI benchmark price is helpful to gauge trends over time since averages may fluctuate by changes in the mix of sales activity from one month to the next.
The table below shows the June benchmark prices for all housing types within LSTAR's jurisdiction, comparing changes from the previous month and three months ago.
MLS® Home price Index Benchmark Prices
Benchmark Type
June 2023
Change Over May 2023
Change Over March 2023
LSTAR Composite
$626,200
↑1.0%
↑5.6%
LSTAR Single-Family
$674,300
↑1.1%
↑5.3%
LSTAR One Storey
$610,300
↑0.5%
↑5.7%
LSTAR Two Storey
$719,200
↑1.5%
↑5.2%
LSTAR Townhouse
$520,300
↑1.3%
↑4.8%
LSTAR Apartment
$392,800
↓0.3%
↑12.8%
In terms of housing preferences, the single-family home remained the top choice among local buyers, with 543 units sold, followed by 108 condo townhouses and 52 apartments.
"When compared to other values recorded provincially and nationally, homes in our area continue to remain relatively affordable," Miller said. The following chart shows the latest HPI benchmark prices, courtesy of CREA.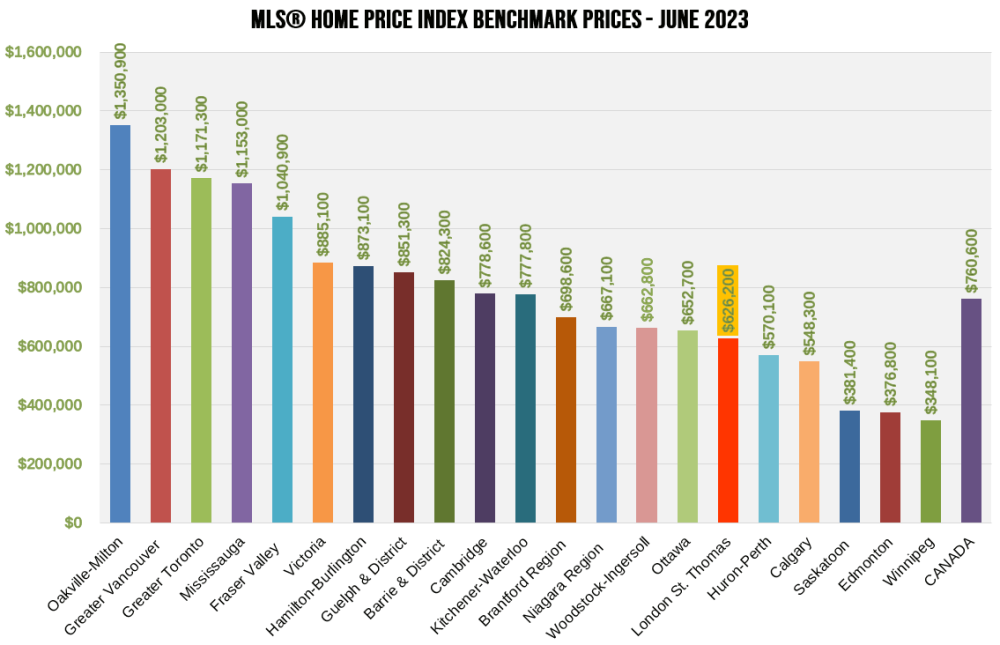 If interested, click on any of the blocks below for what is for sale now on MLS in London Ontario and Area