In August 2023, 569 homes exchanged hands via the MLS® System of the London and St. Thomas Association of REALTORS® (LSTAR), 3.2% fewer than in August 2022. During the same period, 1,212 new listings came on the market, 13.2% more than in the eighth month of 2022. The local housing supply saw a slight increase from 2.9 months of inventory in July to 3.4 months in August. 
With new listings outpacing sales, LSTAR's overall sales-to-new listings ratio was 46.9% in August. This means the market is slowly becoming a balanced market, neither a buyer's nor a seller's market.
The following table shows the average and MLS® HPI Benchmark Prices recorded last month in LSTAR's main regions.
| Area | August 2023 MLS® HPI Benchmark Price | August 2023 Average Price |
| --- | --- | --- |
| Central Elgin | $636,700 | $747,120 |
| London East | $497,000 | $492,858 |
| London North | $709,100 | $716,507 |
| London South | $605,400 | $702,729 |
| Middlesex Centre | $847,700 | $978,164 |
| St. Thomas | $541,700 | $555,051 |
| Strathroy-Caradoc | $750,600 | $722,763 |
| LSTAR | $607,400 | $663,663 |
August's overall average home price sat at $663,663, slightly lower than in the previous month, but 4.2% higher than a year ago. LSTAR's composite MLS® HPI Benchmark Price came in at $607,400, 0.9% down from July, but 1% over a year ago.
"The average sales price is determined by adding up the sale prices of all types of homes sold and dividing that total by the overall number of units sold. In contrast, the HPI benchmark price provides insight into the value of what's considered a 'typical home' according to local buyers, taking various housing characteristics into account. While averages can be influenced by a small number of high-end sales occurring within a single month, the HPI benchmark prices offer a more reliable means of identifying long-term price trends," Adam Miller , chair of LSTAR explained.
The table below shows the August benchmark prices for all housing types within LSTAR's jurisdiction, comparing changes from the previous month and six months ago.
MLS® Home price Index Benchmark Prices
Benchmark Type
August 2023
Change Over July 2023
Change Over 6 Months Ago
LSTAR Composite
$607,400
↓0.9%
↑3.9%
LSTAR Single-Family
$651,200
↓1.0%
↑3.6%
LSTAR One Storey
$593,600
↓0.1%
↑6.0%
LSTAR Two Storey
$692,700
↓1.4%
↑2.6%
LSTAR Townhouse
$510,100
↓1.3%
↑4.6%
LSTAR Apartment
$398,700
↑1.5%
↑9.4%
The single-family home remains the favourite house type of local buyers, with 427 sales in August. Condominium townhouses rank second, with 86 units sold, followed by apartments, with 51 units exchanging hands.
In August, the average price of a single-family home located in LSTAR's jurisdiction stood at $726,263, while that of a condo townhouse was $519,970. The average price of an apartment sat at $417,321.
"It's interesting to note that condos, one-storey homes, and apartments saw the highest year-over-year price appreciation. That may be a reflection of the changing needs of an aging population," Miller observed.
"Despite these price appreciations, homes in LSTAR's jurisdiction continue to maintain their affordability compared to other major Ontario and Canadian centers," Miller said. The following chart shows the latest HPI benchmark prices, courtesy of CREA.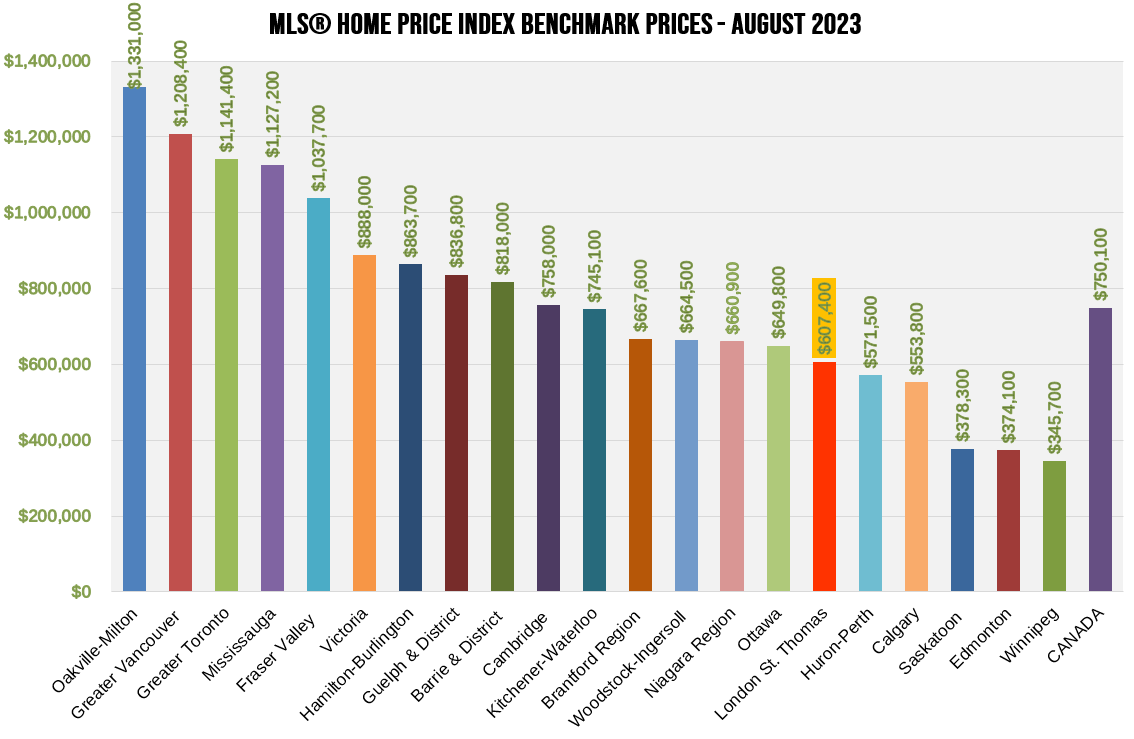 You Can See What Is For Sale Now For Houses, Townhouses and Apartment Condos