Seven hundred fifty-two homes in London Ontario and area exchanged hands in  November 2019, the best November ever, since LSTAR (London St.Thomas Association of Realtors) began tracking data in 1978.
There have been 9,658 home resales year to date, which is up 3.2% compared to the same period in 2018, and on course to surpass last year's total sales.
The sales-to-new listings ratio in LSTAR's jurisdiction was 90.7%, which the Canadian Real Estate Association (CREA) says favours sellers. A rate between 40% and 60% is generally consistent with a balanced market. A ratio below 40% tends to favour buyers, while a ratio higher than 60% indicates marketplace conditions supporting sellers, according to CREA.
Several regions saw sales-to-new listings ratios above 100%, including London East (105.6%) and Strathroy (107.1%). London and area are still experiencing low inventory levels, which continues to impact the average home sales price in all regions.
Overall, the average home price was $416,116, up 10.6% compared to November 2018.
| Area | November Average Sale Price |
| --- | --- |
| Elgin County | $417,206 |
| London | $426,887 |
| Middlesex County | $514,016 |
| St. Thomas | $327,731 |
| Strathroy | $400,727 |
| LSTAR | $416,116 |
Looking at London's three main geographic areas, the average home price in London East was $357,796, up 18.6% from last November. In London South (which includes data from the west side of the city), the average home sales price was $424,900, up 12.2% compared to the previous year, while London North saw an increase of 1.9% over last November, with an average home sales price of $493,896.
Here is what is for sale in a few London Neighbourhoods.
The following chart is based on data taken from the CREA National Price Map for October 2019 (the latest CREA statistics available). It provides a snapshot of how home prices in London and St. Thomas compare to some other major Ontario and Canadian centres.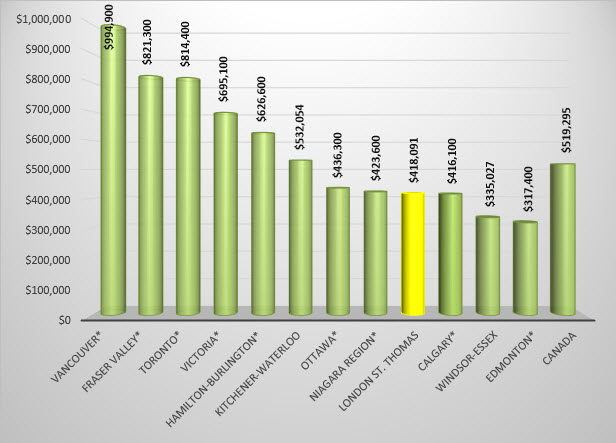 According to a research report2, a total of $67,425 in ancillary expenditures is generated by the average housing transaction in Ontario over three years from the date of purchase.
The London and St. Thomas Association of REALTORS® (LSTAR) exists to provide its REALTOR® Members with the support and tools they need to succeed in their profession. LSTAR is one of Canada's 15 most significant real estate associations, representing over 1,900 REALTORS® working in Middlesex and Elgin Counties, a trading area of 500,000 residents. LSTAR adheres to a Quality of Life philosophy, supporting growth that fosters economic vitality, provides housing opportunities, respects the environment and builds good communities and safe neighbourhoods and is a proud participant in the REALTORS Care Foundation's Every REALTOR™ Campaign.