London Ontario Real Estate Market February 2022 Selling Prices Rise 41%
Eight hundred thirteen homes sold in February 2022 in the London and St. Thomas Association of REALTORS® (LSTAR) area, with the lowest housing inventory and the lowest number of active listings on record.
One thousand twenty-one new listings came on the market in February, with 408 actives at the end of the month.
In February, our area's overall average price for all home types was $825,221, whereas LSTAR's composite MLS® Home Price Index Benchmark Price sat at $749,000.
During the same month, while the Sales-to-New-Listings ratio for LSTAR's entire jurisdiction was a bit lower than in February 2021 – 79.6% last month versus 86.2% in February 2021, the Sale-to-List-Price ratio increased by 9% over the same period, reaching a new record high of 123%.
The following table shows how February's average sales prices in LSTAR's five central regions compare to the benchmark prices for the same areas.
| Area | February 2022 MLS® HPI Benchmark Price | February 2022 Average Price |
| --- | --- | --- |
| Central Elgin | $813,400 | $974,715 |
| London East | $651,300 | $645,707 |
| London North | $879,100 | $958,599 |
| London South | $742,200 | $838,023 |
| Middlesex Centre | $1,072,600 | $993,602 |
| St. Thomas | $663,000 | $731,584 |
| Strathroy-Caradoc | $840,600 | $817,870 |
| LSTAR | $749,000 | $825,221 |


The single-family home remains on top of the local home buyers' preferences, followed by condo townhouses and apartments.
Five hundred seventy-two single-family homes, 127 condo townhouses, and 75 apartments were sold in February, all with substantial price gains. In February, the average price for a single-family home in LSTAR's jurisdiction was $904,800, a condo $680,358, and the overall average price for an apartment was $474,322.
The following table shows the February benchmark prices for all housing types in LSTAR's jurisdiction and how they stack up against the values from a year ago.
MLS® Home Price Index Benchmark Prices
Benchmark Type
February 2022
Change over February 2021
LSTAR Composite
$749,000
↑ 41.2%
LSTAR Single-Family
$815,600
↑ 38.3%
LSTAR One Storey
$733,500
↑ 42.6%
LSTAR Two Storey
$891,900
↑ 35.2%
LSTAR Townhouse
$594,500
↑ 52.5%
LSTAR Apartment
$400,700
↑ 64.6 %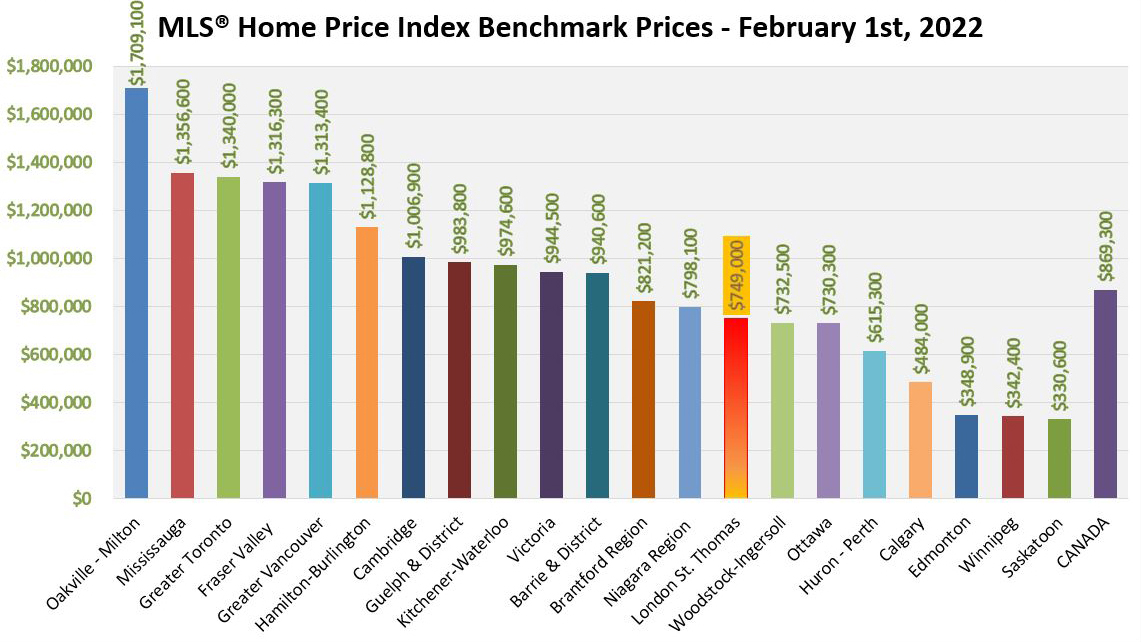 Low Inventory Of Homes in London Ontario Creates a Seller's Market
The real estate market in London is experiencing a seller's market. The inventory of houses and condos listed for sale is meagre, and if able, this may be the time to take advantage of the large numbers of buyers currently competing to purchase. You can see by the numbers above that results do not lie, and there are very few properties for sale.
There are several reasons to consider selling your home within the next few months. First, the convenience of selling within seven to ten days always makes the process less burdensome. It is equally appealing for buyers who are seriously looking to purchase, and they come pre-qualified for financing. Buyers are also more flexible about a closing date to accommodate the seller's preferred timing. Of course, a well-priced house or condo will generate multiple offers that typically net the highest price for you.
For buyers, this is an ideal time to capitalize on the current real estate market? It's not the home price that matters; it's the house's or condo cost when you factor in interest rates. If the rates go up 1%, you lose 10% in Purchasing Power!
Don't wait for the right opportunity; create it.