The London and St. Thomas resale housing market in January 2021 saw 547 homes sold through MLS, the highest number of home sales for January since the Association began tracking data in 1978.
During the same month, the overall Home Price Index (HPI) benchmark price for LSTAR (London St.Thomas Association of Realtors) climbed 5.7% over December 2020, to $511,500, which marks the first time that LSTAR's composite HPI price has exceeded $500,000.
The reason: More buyers than sellers, which then becomes a seller's market meaning there are multiple offers on properties (so-called bidding wars) with buyers coming from larger cities to London or, for those working from home, larger homes with a dedicated workspace or play area or a combination of both. Even in the $400,000 range, I have seen properties sell for $100,000 over the asking price!
The following table shows last month's benchmark prices by area and how they compare to the average prices recorded during the same month.
| Area | January 2021 MLS® HPI Benchmark Price | January 2021 Average Price |
| --- | --- | --- |
| Elgin | $497,900 | $524,238 |
| London East | $443,100 | $423,686 |
| London North | $623,300 | $725,176 |
| London South | $504,100 | $705,148 |
| Middlesex | $725,300 | $603,740 |
| St. Thomas | $392,500 | $498,372 |
| Strathroy | $571,800 | $629,741 |
| LSTAR | $511,500 | $607,431 |
In January 2021, the aggregate average price for the entire jurisdiction of LSTAR sat at $607,431, also an all-time high for our area.
An essential measure of a housing market's health and sustainability is inventory, which shows how long it would take to liquidate the existing supply at the current sales activity rate.
At the end of January, there were 0.8 months of inventory across the entire LSTAR area; out of the five central regions, St. Thomas had the lowest housing supply, with only 0.5 months of inventory, while London's and Strathroy's values were at 0.7 months.
Another critical measure is the sales-to-new listings ratio. It was 81.9% for LSTAR. The Canadian Real Estate Association (CREA) represents conditions in the marketplace that favour sellers (a balance between 40% and 60% is generally consistent with a balanced market). LSTAR's five areas all recorded sales-to-new listings ratios over 60%, with the highest seen in Strathroy at 138.1% and the lowest in Elgin County at 66.7%.
Out of the 547 houses sold last month by LSTAR REALTORS®, 413 were single-family homes, 57 were townhouses and 57 were apartments. The table below shows the December benchmark prices for all house types and how they stack up against the values from a year ago.
MLS® Home Price Index Benchmark Prices
Benchmark Type
January 2021
Change over January 2020
LSTAR Composite
$511,500
↑ 26.2%
LSTAR Single-Family
$561,200
↑ 30.1%
LSTAR One Storey
$488,000
↑ 23.8%
LSTAR Two Storey
$634,500
↑ 33.6%
LSTAR Townhouse
$374,200
↑ 12.5%
LSTAR Apartment
$294,600
↑ 14.3%
Despite these notable price increases, our area's homes continue to remain relatively affordable compared to houses from some other prominent Ontario and Canadian centres. The following chart is data taken from the CREA National Price Map for December 2020.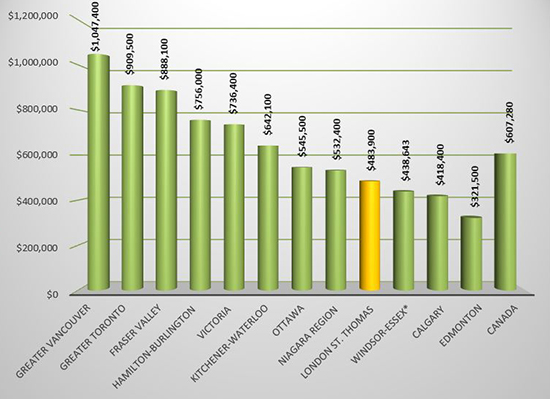 In summary, these numbers do not lie! Some say prices will drop, and others say they will rise, and, or, the affordability factor comes into play. Regardless of the product, astute buyers and sellers do well in all markets because they do not time the market; they act now!