723 homes were sold via the MLS® System of the London and St. Thomas Association of REALTORS® (LSTAR) in April 2023. "Since the beginning of 2023 we've been noticing steady month-over-month increases in the number of home sales and prices, which indicate that the property demand and the housing supply issue are still there. Both of these are also demonstrated by the sales-to-new-listings ratio, which sky-rocketed in April, and by the dwindling housing inventory," said 2023 LSTAR President Adam Miller.
The overall sales-to-new listings ratio for the entire London-St. Thomas area climbed from 63.5% in March to 75% in April, while the inventory plunged from 2 months in March to only 1.8 in April.
The average home price for LSTAR in April 2023 was $664,149, while the composite MLS® HPI Benchmark Price was $607,200.
The following table shows how home sales and prices evolved in the first quarter of this year in London, Ontario and the area.
| | January 2023 | February 2023 | March 2023 | April 2023 |
| --- | --- | --- | --- | --- |
| LSTAR Home Sales | 344 | 436 | 685 | 723 |
| LSTAR's Overall Average Price | $585,252 | $621,912 | $653,611 | $664,149 |
| LSTAR's Composite MLS® HPI Benchmark Price | $568,300 | $583,500 | $592,600 | $607,200 |
Last month, the single-family home remained on top of the local buyers' preferences, with 519 units sold. The condo townhouse ranked second, with 100 units changing hands. The apartment came in third place, with 61 units sold.
"Since the Bank of Canada pressed the pause button on interest rate hikes, single-family homes saw month-over-month gains in their MLS® HPI Benchmark prices. In April 2023, LSTAR's overall MLS® HPI Benchmark Price for single-family homes stood at $654,100," observed Miller.
"When compared to other values logged provincially and nationally, homes in our area continue to remain relatively affordable," Miller said. The most recent HPI benchmark prices for April, provided by CREA, can be found in the following table.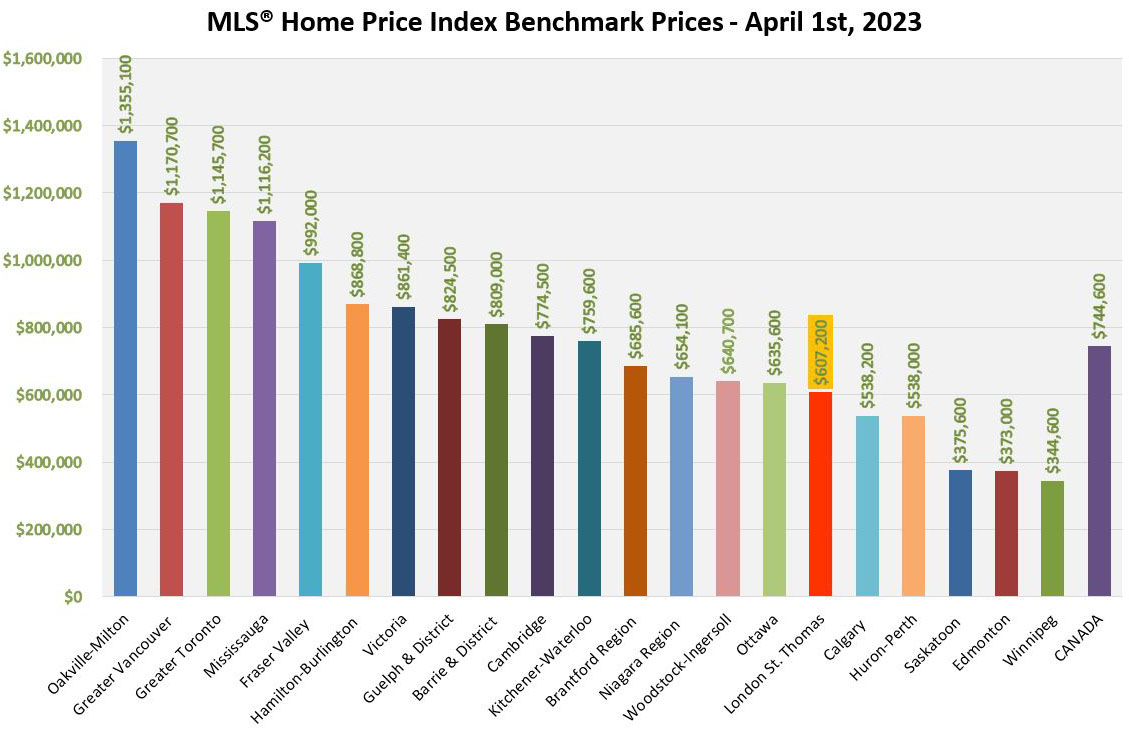 By The Way, Here Is What Is For Sale Now oN MLS in London Ontario & The Area