Seven hundred forty homes in London Ontario and area were sold in February 2020 through our local MLS, The London St.Thomas Association of Realtors (LSTAR).
Home sales took a leap over January 2020 – from 568 to 740, which is quite a jump considering it remains a sellers' market.
Since last February 2019, the local residential sales activity saw a 23.7% increase, while the overall average home price experienced a 13% surge, rising to $445,535 in February.
Inventory is another critical measure of the balance between sales and the supply of listings. This shows how long it would take to liquidate existing inventories at the current rate of sales activity. At the end of February 2020, there were only 1.8 months of inventory across the entire LSTAR district – the lowest level in the last ten years.
"Looking at the home sales activity in LSTAR's five main regions, it's interesting to see that three of them – Elgin County, Middlesex County and Strathroy – had their second-best February ever. London witnessed its third-best February with 488 home sales, while St. Thomas set a new absolute record for February home sales, with 68," LSTAR'S president Blair Campbell noted.
"However, if you will dig deeper into the London statistical figures, you will be surprised to discover that London South's February home sales reached their highest peak ever. This demonstrates, once again, that real estate is local and that, if you're looking for real estate information or guidance, a local REALTOR® is your best bet," Campbell emphasized.
Here are all the houses and condos for sale in these neighbourhoods.
The following table illustrates last month's average home prices in LSTAR's central regions and how they compare to the values recorded at the end of February 2019.
| Area | February 2020 Average Sale Price | Change over February 2019 |
| --- | --- | --- |
| Elgin County | $387,800 | ↑7.5% |
| London | $447,860 | ↑10.4% |
| Middlesex County | $507,284 | ↑ 9.1% |
| St. Thomas | $376,134 | ↑22.0% |
| Strathroy | $489,381 | ↑32.6% |
| LSTAR | $445,535 | ↑ 13.0% |
"Analyzing average prices in London's three main geographic areas, it is worth noting that London East saw the biggest year-over-year increase," Campbell added.
The average home price in London East was $369,094, up 21.8% from last February, while London North saw an increase of only 6.1% over last February, with an average home sales price of $530,042. In London South, the average home price was $437,667 – up 11.5% over February 2019.
The following chart is based on data taken from the CREA National Price Map for January 2020 (the latest CREA statistics available). It provides a snapshot of how home prices in London and St. Thomas compare to some other major Ontario and Canadian centres.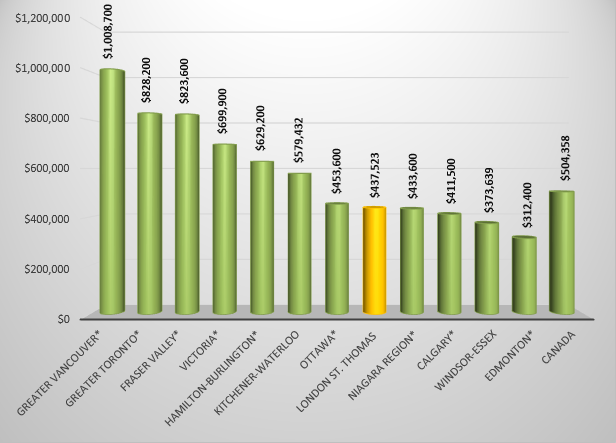 For all the houses for sale in London, Ontario and area currently on MLS, go here. These listings are updated every hour. For condos in London, go here.